A license suspension due to driving under the influence, driving on a suspended license or underage drinking can be significant. Also, if convicted of possession of a controlled substance you will suffer a license suspension. It is important that you are aware of these ancillary effects which shall have an effect on your driver's license. Loss of your driver's license can be devastating due to work or home life.
License restoration lawyer in Media, PA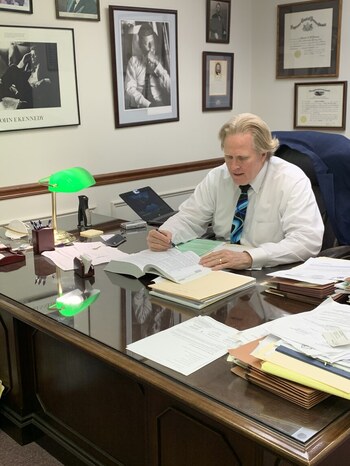 Pennsylvania does allow a work license program if you have a license suspension of more than two months. You may apply for a work license for the balance of the suspension.
Driving under the influence or a DUI offense the license suspension can be from one month to up to five years if you're convicted of a third major Penn DOT offenses. Additionally, your license can be suspended for driving while suspended whether it is a regular suspension or a driving under the influence suspension. That penalty will be a minimum of one year.
A charge for any drug offense will be a minimum of six months license suspension but this also increases with the number of offenses. You can lose your license. You could suffer a license suspension which increases with a second and third offense.
Numerous traffic offenses under the traffic code can and will force you to suffer a license suspension. The court is not obligated nor should they give you legal advice concerning a license suspension. It is absolutely imperative that you contact this office to discuss the above to protect your constitutional rights as well your driver's license rights.
Looking to hire drivers' license lawyers in Media, PA?
Contact us to ensure your rights are not being restricted.  Call the Law Offices of Steven F. O'Meara at 610-565-9200 or email now.
"Because of a long history of breaking the law I was suspended for 19 years. I spoke with Steve and after he looked at my driver's record he wrote a letter to PennDot challenging every offense listed. A month later he called to let me know that PennDot made mistakes and I should have my license back in August! After that I got a great job in Wilmington because I could drive again." – Jim
Typical reasons for License suspension in Media, PA
If you have been arrested for drunk driving in any of the five countries of the tri‑state area of Pennsylvania*, it is extremely important that you know what your rights are. If convicted of driving under the influence (DUI), punishments can include the loss of your driver's license for anywhere from one month to five years, increased insurance premiums, significant court costs and fines and jail time. It is absolutely imperative that you have an experienced DUI attorney on your side to protect your rights and mitigate any and all damage you could suffer.
DRIVING UNDER the INFLUENCE (DUI) – 1st, 2nd and 3rd tier
Penalties: Jail time, probation, license suspension
DRIVING WHILE SUSPENDED DUI RELATED – driving while suspended, suspended licenses, work license
Penalties: Jail time and license suspension
TRAFFIC – speeding tickets, careless and reckless driving, registration and insurance issues.
Penalties: Significant fines and costs and license suspension
Our offices located in Media, Delaware County, West Chester, Chester County, Pennsylvania have been representing people charged with driving under the influence (DUI) in the five county area* for over 20 years. Our firm is committed to providing all persons charges with outstanding personal service, respond quickly to all phone calls and emails and providing clients with frequent case updates.
Act quickly to protect your rights. If you've been arrested for driving under the influence contact the Law Offices of Steven F. O'Meara immediately. Call 610-565-9200.
This is not something you want on your record. A DUI conviction is definitely something you cannot suffer on your record. There are many different things you can do to keep your record clean. The first thing you should do is contact our law offices so we may advise you promptly. After we thoroughly investigate the circumstances of your arrest and ask tough important questions such as whether or not the police have probable cause to pull you over, were your rights clearly explained and was the breath and field sobriety test administered properly.
Depending on the facts of your case we may be able to have the charges dismissed against you by trial or negotiated withdrawal or resolve your matter in a non‑trial disposition through the accelerated rehabilitative disposition (ARD) program. This is also known as 'probation without verdict.' You receive a probationary sentence along with a limited license suspension and thereafter protect your criminal record from conviction. Once you complete the ARD program all records of your arrest can be expunged except the DUI charge will remain with the Pennsylvania Department of Transportation for a period of ten years per the legislature. You should be apprised of your rights at the earliest possible date so that you can plan appropriately.
Each County has a different set of rules dealing with the ARD process. I have practiced in all five counties in the tri-state area of Pennsylvania and successfully represented individuals charged with driving under the influence (DUI).*
A suspended license attorney can get your drivers' license back
Just because the Pennsylvania Department of Transportation (Penn DOT) says that your driver's license is suspended does not mean that they are correct. Mistakes are often made which make it extremely important to have an experienced attorney review your driving record.
Our office has been practicing for over 25 years and represented many persons charged with driving under the influence (DUI). DUI penalties have serious consequences that may affect every aspect of your life. Not only can you face jail time and fines but very often your driver's license may be suspended as well. It is important to protect this privilege and seek out competent counsel who can help you mitigate all penalties.
The Law Offices of Steven F. O'Meara has extensive experience defending people throughout the five counties in the tri‑state area (against drunk driving charges and assisting them with other associated issues related to protecting your driver's license privileges.)
Call the Law Offices of Steven F. O'Meara at 610-565-9200 today.
Media, PA license restoration information center